Top Ten Best 2-Player Board Games
Let's face it, board games are great for groups of people and socializing with your friends but 2 player games can be just as exciting and even more intense. Many times you are not going to have 3 or more people to play a game with, especially if you are at a later stage in life #kidstruggles. Owning a great two-player game that you are able to play with your spouse or best friend is huge! I have personally grown to love 2-player games as it lends itself to more direct competition with a singular opponent. Another advantage is in many games with 4 people it is impossible to keep track of what all the players are doing. In 2-player, you can really focus on your own strategy along with blocking or affecting your opponent's strategy much easier. This list is composed of a few games that only allow for 2-players but the majority of picks just scale really well for 2-player. Enjoy!
10. Best 2 Player Board Game
If you haven't played Codenames yet, what's wrong with you?! The "Duet" version slims the original game down into just a two-player co-operative game. Game play consists of both players guessing and giving clues within a limited number of rounds. Codenames Duet is just as fun as the original and gets players into both sides of the action all at once!
09. Best 2 Player Board Game
Patchwork is a game developed by the legendary Uwe Rosenburg who has created greats like Agricola and Le Havre.

This is a quick game where you are purchasing tetris-syled pieces to fill your board. There is an engine-building mechanism that you must focus on in order to generate buttons (the currency of the game) and purchases those tetris-styled patches. Even though the theme might turn most off of this game, the core mechanics of this game make it a lot of fun to play with just about anyone!
08. Best 2 Player Board Game
Splendor is an great gateway game because it teaches some of the core mechanics of modern board gaming and is relatively easy to teach. Splendor also does an excellent job with scaling for 2 player games. My wife and I love playing Splendor together and you are able to play more defense in 2 player as you can just focus on one opponent. Splendor is still best with 3-4 players but it's surprisingly an excellent 2 player game because of it's mechanics.
You can find the full review of Splendor on our blog page and it made both of our top ten lists of all time.
Check out our Splendor Overview Page!
07. Best 2 Player Board Game
Pandemic Legacy: Season 1 is a standalone game from the original Pandemic game and expands upon the already popular mechanics and gameplay of the original. Legacy is actually a much better 2 player game then the original because it's set up like a campaign with you opening new pieces and rules every time you play. I actually prefer this game as a 2-3 players because you are able to make decisions easier and you get more turns. Pandemic Legacy is like no other game as it's a co-operative campaign game with an overarching story-arc played through 12-24 sessions. You get to unlock new secrets, rules, and game pieces each time you play and your decisions carry over into future. Thus, it's a great game for 2 player as you can make all the decisions together while exploring this very unique journey. This game is definitely more complex than the original and if you are looking for a game that will keep you intrigued for a long time, then look no further!
06. Best 2 Player Board Game
The original game 7 wonders took the gaming world by storm and became one of the most popular games starting in 2010. 7 Wonders Duel came out in 2015 as a standalone game for just 2 players. It has all the same mechanics as the original with card drafting and set collection. Many people find 7 Wonders Duel even more enjoyable with the balance of strategy and tactics in a 1 on 1 format. The original 7 Wonders game does not scale well for 2 players but 7 Wonders Duel is one of the most popular 2 player games out there currently.
05. Best 2 Player Board Game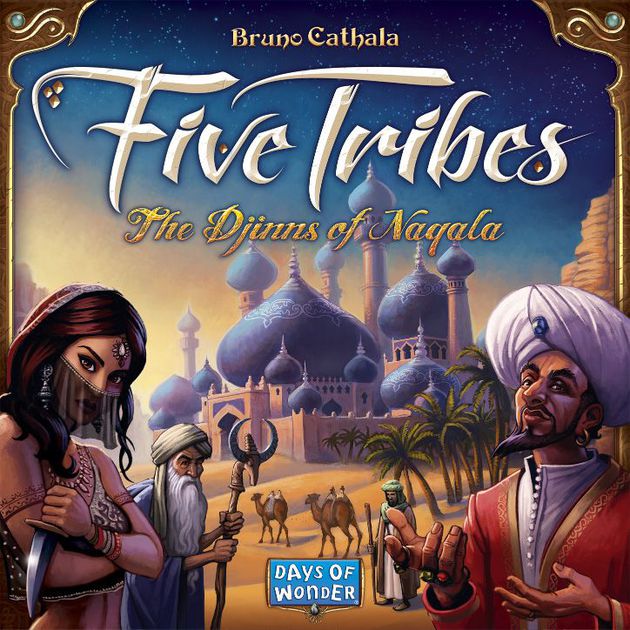 Five Tribes is for 2-4 players and can take about an hour to play. Five Tribes unique mechanics makes this game an instant hit and very intriguing game for the intermediate to advanced gamer. It is a modular board and random meeple placement, which means high replayability. Despite the weight of the game, it's pretty easy to learn and to teach because of the well written rules. We found playing this game with 2 players is actually ideal because you get more turns and you are able tactically focus on your opponent and effect their future moves. You need to think 1 or 2 steps ahead in this game and it's much more suited for a 2 player battle of whit and strategy. There are lots of roads to victory and this game is easy to teach, but tough to master, which is ideal for head to head competition.
04. Best 2 Player Board Game
Tokaido is an excellent medium/light game that can be played with 2-5 players and is from the same designer of 7 Wonders and Takenoko. Tokaido has beautiful artwork and is very tranquil game to play with very little conflict. It's easy to learn/teach but full of strategic choices. This game scales very well for 2 players and would highly recommend. Whoever is the furthest behind, get's to control a "dummy" or third traveler. This allows for more defense and being able to block your opponent's future moves. You cannot share the same space in 2 player so the "dummy" traveler makes a huge difference to the strategy and game play. I love games that add some new rules for 2 player to have proper scaling and allow the game to be more versatile. If you want Tokaido to be more competitive then give 2 player a try as it adds conflict to an otherwise very tranquil game.
03. Best 2 Player Board Game
Biblios is one of the most complex filler games that I own because it is very easy to teach and play anywhere, but also takes good planning and strategic bidding. The game can be played with 2-4 players but I find this game the best with 2-players because of the 1 vs 1 strategic element that takes place. During the auction phase you are trying to up the bid on your opponent but also have to decide what is worth the cost. It's a great head to head battle and I have played this game dozens of times with all different amount of players. The simple mechanics really draw in people who are new to games and typically everyone wants to play a second time once they figure out the strategy from the first game. This game is also on my top 10 lists of all time because of the scalability, portability, and ease of teaching.
Check out our Biblios Overview Page!
02. Best 2 Player Board Game
Star Realms is an amazing two-player deck builder that is fast paced and extremely easy to learn. Deck building games allow you to accumulate cards that you can replay throughout the game, typically structured in a way where better cards can be purchased/earned as time goes on.
The first time I played this game, I couldn't get enough of it and I immediately wanted to buy it for myself. At such a low cost, this game is a must-have in everyone's collection.
01. Best 2 Player Board Game
Jaipur is a fantastic 2-player only game that is played over a best out of 3 rounds. The game can be played in 30 minutes or less and it is very easy to learn. This game is #1 on the list because it is very hard to find a strategic, fun, and easy to learn 2-player only game. For example, Twilight Struggle, #10 on the list, is an excellent 2-player game but is way more strategic, complex, and will take a few hours to play.
Jaipur hits that perfect stride of strategy and quick play. It is super portable and very easy to teach, which is another big reason for this #1 ranking. It will keep you intrigued with trying to out maneuver your opponent with collecting tokens along with selling and buying goods. A trading game that is perfect for 2-player is rare to find and this is an absolute must to own for some great 2-player fun!
What Are Your Favorites?
Leave a comment below and let us know your favorites or personal top ten list. Disagree with some of our picks, tell us where we went wrong! We are looking forward to seeing your thoughts on this particular top ten list :) ~ Chris & Stephen